Shamisen Repair
Are you having trouble repairing your shamisen? Someone gave you a shamisen or you bought one from an internet auction site or antique shop, but the skin or neck of the shamisen is damaged and you are looking for a good way to repair it? We have assisted these customers by repairing their shamisens and received excellent feedback from them. Please feel free to contact us about repairing your shamisen. Each shamisen may need different repair, so it is difficult for us to tell you the exact repair charges without looking at the actual shamisen. Please note that the estimated repair charges are just a rough amount. (The actual charge can be cheaper or more expensive than the estimated charges.)

Attention: Please do not send us any items made of ivory or bekkou (turtle shell). The Washington Convention prohibits international transportations of any items made of ivory or bekkou (turtle shell).
*When customers send shamsien for repair to my store,we ask that the customers pay for the shipping fee.

○ We will estimate the repair charges based on the information you e-mail us.
If you would like to obtain a quote by e-mailing us the information, please note that we can only give you the rough amount. This is because we cannot identify problems there are (condition of the peg, small cracks, warpage of the neck, etc.) and determine the actual repairs needed by looking at the information or photos you e-mail us. So the exact repair charges become available after we take a look at the shamisen. When you e-mail us the information about your shamisen, please give us detailed descriptions of the problems you have. Please enter "shamisen" or "shamisen repair" in the subject line when you e-mail us so we can distinguish your e-mail from junk e-mails. Please attach photos of the damaged shamisen to the e-mail you send us (up to 4 photos including close up photos of the damages). (Please keep the total size of the e-mail 500KB or less.)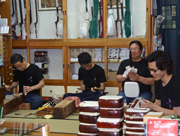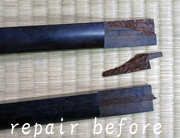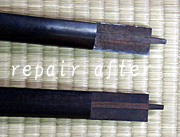 Details of Shamisen Repairs and Prices

○ Kanberi (wearing away of neck)
After playing shamisen for a long time, it starts making noise when holding positions with fingers. We scrape the roughness on the surface and polish the neck.
Estimated price:
Karin (red oak) 12,000JPYEN, Kouki (redsander) 18,000JPYEN~

○ Peg repair
A peg does not stop where it is supposed to be and gets loosen easily. We repair the peg so that it stops and tightens firmly. Please note that the price changes depending on the peg condition, and the following price is just an estimate.
Estimated price: Ebony / 3,000JPYEN to 5,000JPYEN for 3 pieces

○ Peg replacement
When peg is too short to fix, we replace 3 pegs.
Small size is usually for Nagauta. Big size is usually for Kouta, Minyou, etc.
Estimated price:
Ebony (standard) / Small size 10,000JPYEN ~, Big size 11,000JPYEN ~
Ebony (high quality) / Small size 13,000JPYEN ~, Big size 14,000JPYEN ~
Tsugaru / Ebony (standard) 22,000JPYEN ~ /
Ebony (high quality) 25,000JPYEN ~.

○ Reassembling body
We reassemble pieces of the shamisen body so that the skin can be attached.
Estimated price: 5,000JPYEN

There are various repairs, and we do repairs other than the above. Please feel free to contact us for more details.

○ Skin replacement
We replace a torn skin of your shamisen.
Estimated price:
Artific skin (plastic): Both sides 26,000 yen, Single side 13,000 yen
We can replace with other types of skin. Please contact us for more details.




○ How to make payment for repairs
For repairs, we need to see the actual shamisen first to find out the exact repair charges. Once we receive the shamisen, we will examine and e-mail you the repair charges including shipping fee. Please confirm the amount and make payment promptly before we return you the repaired shamisen. We cannot ship you the repaired shamisen without receiving the payment.