Message from the President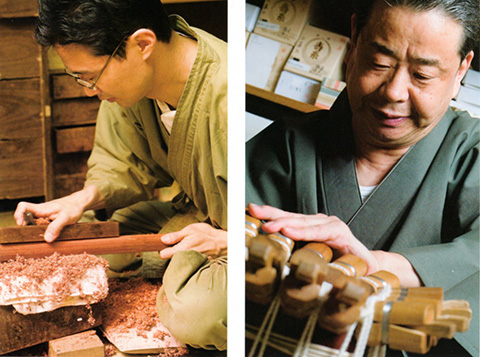 Greetings.
Since its establishment, we have welcomed all kinds of customers including those who have touched a shamisen for the first time and professional shamisen players.
We specialize in shamisens, kotos and Kokyu. So you will find everything you need for your shamisens, kotos and Kokyu in our shop. (If we do not have what you are looking for in our shop, we will order it for you.)
All repairs are done by our professionals, including myself, at our shop. We also complete shamisen works responsibly. Each shop has different sound of shamisen, so please try our sound. You may be hesitated to contact a gspecialty shop,h but we look forward to hearing from you. So please feel free to contact us.
My father (the Official Traditional Craftsman of the Tokyo Metropolitan Government) opened the business in the current location (Gotokuji, Setagaya-ku of Tokyo) in 1967 (Showa 42) to create his own business for his second son. In his parentsf home, his father (my grandfather) opened a shop in Omori, Ota-ku of Tokyo. My grandmother was a daughter of a shamisen shop in Shinagawa, one of the post stations of the old Tokaido route. So it is certain that my family has been in shamisen business for at least 4 generations. And we all named the shops gKameyah for generations.
Relocated to Setagaya ku Miyasaka in January 2019
About us
Company Name:
Kameya Hougakki
(Store Open)9:30 (Close)18:00
(Store Holiday)
Sunday,National Holiday(Japan)
Address:
3-12-11 Miyasaka, Setagaya-ku, Tokyo, Japan 156-0051
Phone Number:
(81) 03-3429-8389
Fax:
(81) 03-3429-7266
E-mail:
shamisen@e-kameya.com
Official Web Site:
https://www.e-kameya.com/english/